More corruption in Philadelphia's courts
Thursday, February 7, 2013
Lawyers for federally indicted Philadelphia Traffic Court "judges" – who aren't lawyers and don't even need high school diplomas to impose fines on out-of-towners but fix tickets for friends and politically connected residents – are citing the "Bill DeWeese defense" for their clients: "Everybody does it … this is the way it has worked for a century … it's unfair that these current guys are taking the fall for all those who came before them."
Hogwash.
The judges are crooked. So are their lawyers, if they're acting on that nonsense.
Try that with a state trooper the next time you get pulled over on Interstate 80.
"But officer, all those other cars were speeding too!"
You'll like the reply, often given with a smile.
"Maybe so, maybe so. And I didn't get them. But I did get you, didn't I?" Prepare to pay the citation.
The reason that Philadelphia is viewed as a cesspool of corruption by many of us who live elsewhere in the state is closely linked to the "this is the way we do things here."
Philadelphia sucks up hundreds of millions of dollars in state tax aid every year. Those of us who live hereabouts don't "do things" that way as a general rule. When, as happens everywhere, we become aware of corruption in public officials, we don't tolerate it.
Neither should Philadelphia.
Neither should the rest of Pennsylvania.
It is not the job of government to condone current malfeasance or misfeasance because past misdeeds occurred.
One of those lawyers for the judges claimed "It's so unfair."
No.
What's unfair is the thousands of unfixed tickets paid by those of us outside Philadelphia who thought the system was fair.
What's unfair is the state government tolerating the existence of the Philadelphia Traffic Court.
The justice system in Philadelphia is broken, just as three years ago, the juvenile justice system in Luzerne County was broken by corrupt judges who took kickbacks in return for ruining the lives of thousands of juveniles by sentencing them to privately run captivity. Federal indictments broke open that logjam.
The same thing should happen in the case of the Philadelphia Traffic Court.
Judges should be held to the highest standards of conduct, and punished appropriately for deviations.
Today In Corruption: Philadelphia's $780,540 Secret
It's hard enough to have much faith in Philadelphia's political system these days. But when judges appear to pull punches, then all is lost.
Consider the actions of judges in three high-profile cases: the handling of a state representative's alleged drunk driving; state Supreme Court Chief Justice Ronald D. Castille's latest maneuver in the Family Court affair; and the re-sentencing of former state Sen. Vincent J. Fumo.
For those who missed it, Cherelle Parker is a state representative from Northwest Philadelphia who had key evidence in her drunk-driving case tossed out last week by Municipal Court Judge Charles Hayden. Parker, who has had an undistinguished career up until now, is amiable and well-connected.
She was a top aide to City Councilwoman Marian B. Tasco, the city's reigning DROP queen. Tasco is part of the so-called Northwest Alliance, a coalition of city Democrats led by U.S. Rep. Chaka Fattah and State Rep. Dwight Evans. As luck would have it, Judge Hayden used to be the chief counsel for Fattah. Small world.
Hayden presided over Parker's non-jury trial in which prosecutors presented the following evidence: She was pulled over after midnight in April when police spotted her car traveling the wrong way down a one-way street in Germantown. The officers said Parker's eyes were glassy, she smelled of alcohol, was unsteady on her feet, and her speech was slowed.
One officer testified that Parker told him she drank two chocolate martinis and two beers. A Breathalyzer test found her blood-alcohol level was .16, or twice the legal limit.
Parker denied driving the wrong way and testified she only had one martini. Judge Hayden sided with Parker and called the testimony of one of the officers "less than truthful."
To borrow from John McEnroe: Are you kidding me? Or as state Deputy Attorney General Marc Costanzo, a longtime Philly resident who handled the case, said: "I understand how things go around here."
A stunning claim by a prosecutor.
The Family Court matter is another "only-in-Philly" tale. A quick recap: Castille paid an attorney and occasional golf partner millions of dollars in fees to spearhead construction of a new Family Court building. The attorney later teamed up with the developer of the project, essentially representing both sides of the deal. Castille says he wasn't aware of the duel arrangement; the lawyer says it was widely known. Either way Castille looks like a fool.
After the deal blew up, Castille hired his former deputy in the Philadelphia District Attorney's Office, William Chadwick, to detail what went wrong. I spoke with Chadwick after he was hired and asked how someone who once worked for Castille could conduct an impartial investigation.
Chadwick made it clear the report would be done without fear or favor because his integrity was at stake. He also promised the report would be made public. Oops. The report remains secret and was used instead to build a lawsuit against the attorney turned co-developer. Apparently, some promises are made to be broken.
For his efforts, Chadwick was paid $780,540 for the report. Good work if you can get it. But it seems like a case of throwing more good taxpayers' money after bad. The report should at least be made public so taxpayers can see what they paid for.
In the Fumo case, U.S. District Judge Ronald L. Buckwalter will take a second crack today at sentencing the former state senator who was convicted in 2009 of 137 fraud-related counts. Buckwalter cut Fumo a big break the first time by departing from the guidelines and issuing a sentence of 55 months in prison.
Prosecutors appealed and the U.S. Court of Appeals for the Third Circuit ordered Buckwalter to resentence Fumo. Prosecutors want the judge to impose a sentence of at least 15 years. For good measure, the prosecutors released a ream of inflammatory emails Fumo sent from prison that they contend show the once-powerful pol lacks remorse.
No doubt Buckwalter gave Fumo a sweetheart sentence the first time. But the prosecutors have overplayed their hand with the emails, which should not impact Fumo's sentence. It's not a crime to write angry missives from prison. Such piling on only reinforces Buckwalter's belief that prosecutors hyped the magnitude of Fumo's crimes.
As a result, Buckwalter may stick with his original sentence. That may well be the proper ruling at this point. But in Philadelphia it's hard to know what justice is anymore.
Philly Cop-Thug Jonathan Josey Acquitted by Corrupt Judge

The video proves beyond doubt that another cowardly woman-beater cop is caught in the act physically attacking Aida Guzman. He worked for the Philadelphia Police Department, his name is Jonathan Josey and he was a Lieutenant with 19-years' service. He should have known better and controlled his temper. However, why should he? He knows he will get away with it! Click this paragraph or the image to view the video.
Corrupt Judge Patrick Dugan of Philadelphia
February 27, 2013. A corrupt judge, Patrick Dugan, today acquitted this thug-cop and ordered that he get his job back. As I wrote in my original report, here, "Anybody that defends such behaviour is as guilty as Jonathan 'Jackass' Josey himself".
Municipal Judge Patrick Dugan is obviously corrupt and his removal from office would best serve justice. He refused to allow the video as evidence and sided with disgraced and sacked Josey. Police Commissioner Charles Ramsey, who sacked Josey in October 2012 is as shocked as many others, but does not know whether he will reinstate the thug.
[Related – SOURCE – Philly Judge who Found Cop Not Guilty, Married to Cop, Exposing Clear Conflict
March 1, 2013
The video showing Philadelphia Police Lt. Jonathan Josey punching a woman was overwhelming enough for his department to quickly fire him last year.
But it wasn't enough for a judge to find him guilty of simple assault this week.
Now we're learning that Municipal Judge Patrick Dugan is married to a longtime Philadelphia police officer who just happened to be one of about 100 officers in court showing their support for Josey during his non-jury trial earlier this month.
Obviously, it's not always sunny in Philadelphia.
According to the Philadelphia Daily News: "A chorus of criticism swelled Wednesday after word spread that Dugan is married to Philadelphia Police Officer Nancy Farrell Dugan, who has been on the force since 1997, city payroll records show.
She also attended Josey's Feb. 12 nonjury trial, sources said.
Guzman's attorney, Enrique Latoison, said he learned Tuesday that the judge is married to a cop.
"When it was brought to my attention that his wife was a police officer, it was very surprising and I consider it to be a conflict of interest," said Latoison, who has asked the U.S. Department of Justice to investigate the case and intends to file a civil suit against Josey on behalf of Guzman.]
The US government is arming its police with the latest weapons and has even started providing tanks. The cops dress like Star Wars' storm troopers, and when they piss all over the United States' Constitution, their especially picked child-****ing judges exonerate them. They know that an uprising by the people against their fraudulent system is imminent and need traitor Americans in the police, TSA and military to shoot fellow Americans without conscience. (This paragraph edited for profanity from original source)
New Philly Judge: 'That's The Way It's Done In Pennsylvania'
November 15, 2011 07:00 PM
Democratic Rep. Bob Brady is Philadelphia's own Nucky Thompson. He's famous for his patronage and back-door deals, but because the personable Brady has gone out of his way for the past few decades to curry favor with the local journalism establishment, he's rarely called out on it. I wish they ran stories like this before the election, and not after, because it's high past time our state moved to merit selection for judges:
Newly elected Common Pleas Court Judge Thomas M. Nocella credits U.S. Rep. Bob Brady – Philadelphia's Democratic Party boss – for intervening with ward leaders to put him on the ticket.
"He is the one in control," said Nocella, 67, rated qualified for the bench by the Philadelphia Bar Association, despite having been sanctioned by the city Ethics Commission in 2009.
He pointed out that he had done years of free legal work for the party and said the judgeship was his reward. "That's the way it's done in Pennsylvania," he said.
On Jan. 2, he will begin drawing a $165,000 judicial salary. Nocella welcomes the new income because there is a $358,000 IRS lien against him, the state says he ignored local taxes for years, and he has more than $1 million in debts listed in a bankruptcy case.
He is also embroiled in a Common Pleas Court lawsuit accusing him of fraud and deceit in 2005, when he helped sell off property for $507,500 that was owned by a Veterans of Foreign Wars post in Manayunk. The property, overlooking the Schuylkill and large enough to hold 10 townhouses, is four blocks up the hill from Manayunk's main shopping area.
Testifying under oath in a deposition, Nocella admitted that he pocketed $60,000 as a consequence of signing a title-company document stating he was the secretary of Straughter-Carter Post 6627 – although he acknowledged that he was never a VFW member and was not authorized to act as secretary.
He called it an "accommodation" and said that without his signature, the deal would not have gone through.
His lawyer, Samuel C. Stretton, said that Nocella's role in the property sale "was one of the stupider things he did" and that he would probably have to cough up some money as restitution to the VFW.
By the way, Judge Nocella, congratulations!
In relation to Judge Nocella's history, the State judicial board filed charges against him.
The PENNSYLVANIA SUPREME COURT was surprisingly fair in their decision but I'm wondering if he still retains his $165,000.00 salary:
IN THE SUPREME COURT OF PENNSYLVANIA
IN RE: THOMAS M. NOCELLA,COURT OF COMMON PLEAS JUDGE,FIRST JUDICIAL DISTRICT,PHILADELPHIA COUNTY::::
NO. 391
JUDICIAL ADMINISTRATION DOCKET
ORDER
PER CURIAM
AND NOW, this 9th day of November, 2012, this Court has received notice that the Judicial Conduct Board has found probable cause to file formal charges against the Honorable Thomas M. Nocella, Common Pleas Court Judge for the First Judicial District, Philadelphia County, alleging that he has violated Article V, § 17(b) and § 18 (d)(1) of the Constitution of the Commonwealth of Pennsylvania and Canons 2A and 7B(1)(c) of the Pennsylvania Code of Judicial Conduct. In view of the compelling and immediate need to protect and preserve the integrity of the Unified Judicial System and the administration of justice for citizens of this Commonwealth, Judge Thomas M. Nocella is hereby relieved of any and all judicial and administrative responsibilities as a Common Pleas Court Judge and ordered not to take any further administrative or judicial action whatsoever in any case or proceeding now or hereinafter pending in the First Judicial District until further Order of this Court. The suspension shall be served with no diminution in salary or benefits.
This Order is without prejudice to the rights of Judge Thomas M. Nocella to seek such relief in this Court for the purpose of vacating or modifying this interim Order.
Pa.Const. Article V, §10(a); In Re: Avellino, 690 A.2d 1138 (Pa. 1997); see In Re: McFalls, 795 A.2d 367 (Pa. 2002); and see In Re: Singletary, No. 377 Judicial Administration Docket (per curiam) (January 5, 2012).
Madame Justice Orie Melvin did not participate in this matter.
Phila. judge, a convicted felon ordered to resign
The Pennsylvania Supreme Court yesterday ordered Philadelphia Municipal Court Judge Deborah S. Griffin to step down because she was a convicted felon when she attained her judgeship.
The state constitution bars high office to anyone convicted of an "infamous crime" such as bribery, perjury, or embezzlement of public money.
Griffin had argued that her offense – using a false Social Security number to apply for credit cards 16 years before her election – did not rise to the level of an infamous crime or affect the "public administration of justice" in her court.
But the Supreme Court, which in 2000 ruled that all crimes of deceit are infamous, ordered her to vacate the bench immediately.
Griffin was elected in 2000 and reelected last year. The Philadelphia District Attorney's Office and state Attorney General's Office petitioned for her removal because of the fraud conviction.
Griffin could not be reached for comment yesterday.
Her attorney, Samuel C. Stretton of West Chester, said that he was "surprised and disappointed," but that there was little chance the high court would reconsider and that there was no appeal outside the state.
District Attorney Lynne M. Abraham had not had time to review the 19-page decision and would have no comment, spokeswoman Cathy Abookire said.
In 1984, Griffin, a single mother, pleaded guilty in federal court to having applied for employment and several credit cards using a false Social Security number, a felony.
The court sentenced her to two three-year concurrent sentences but suspended those sentences and ordered her to pay restitution of about $1,200.
Griffin failed to report her guilty plea when she applied for entry to the Pennsylvania bar in 1988.
Despite the district attorney's and attorney general's swift demand for her ouster, her case was delayed many months as the courts tried to decide who had jurisdiction to bring charges against her.
Griffin, who grew up in poverty in Harlem, graduated from the University of Pennsylvania and earned her law degree from the University of Missouri, where she was the first African American student to win the moot court competition.
Former judge needed to be disbarred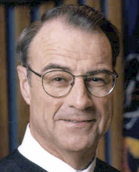 Michael T. Joyce  
Former Superior Court Judge Michael T. Joyce has been disbarred,  retroactive to 2009. But who would you ever want him as an attorney  anyway?
Joyce thought he could get away with faking an injury to defraud insurance  companies of $440,000 while still scuba diving and golfing in Florida and  Jamaica, and piloting a plane he bought, with the insurance money. He also  bought a Harley-Davidson, a hot tub, and spent $6,000 on cosmetic surgery for  his girlfriend.
Joyce thought he could get away with faking an injury to defraud insurance companies of $440,000 while still scuba diving and golfing in Florida and Jamaica, and piloting a plane he bought, with the insurance money. He also bought a Harley-Davidson, a hot tub, and spent $6,000 on cosmetic surgery for his girlfriend.
Joyce was convicted in November 2008 on eight felony counts and given a 46-month federal prison sentence. But he had the audacity to file a lawsuit against the insurance companies for their "nefarious" scheming to ruin his career. The ridiculous lawsuit was dismissed.
Despite all of this, Joyce had appealed to keep his law license, arguing that, "I do not feel to this day, that I did anything wrong." Talk about losing touch with reality.
Tereshko Resigns as Supervising Judge in Wake of Critical Superior Court Decision
The Philadelphia judge taken to task by the Pennsylvania Superior Court for failing to disclose that his spouse worked for a law firm representing a defendant in a motor vehicle insurance case has resigned as supervising judge of Philadelphia's civil cases.
Philadelphia Court of Common Pleas Judge Allan L. Tereshko said in an interview Thursday that he wished he had advised the parties in the case that his wife formerly worked for Post & Schell, the defense firm representing the insurance company in the case.
Tereshko said that "I'm not quarreling with the Superior Court decision," that he should have advised the parties of the relationship before the start of the motion and that it was a lapse not to do that.
"With the number of motions I do, it was an oversight," Tereshko said. "I should have disclosed and I did not."
Philadelphia Court of Common Pleas Judge John W. Herron, administrative judge of the trial division, said that he met with Tereshko on Wednesday after the Superior Court opinion was issued.
"We had a long discussion," Herron said. "He then submitted his resignation saying at the time, given the criticism by the Superior Court, he believed it was in the best interest for the court for him to resign his position as supervising judge."
Tereshko said that he thought it was best if he resigned.
"I didn't want to take away from the great work the civil division is doing," he said. "I felt John Herron would be better off with another supervising judge."
Tereshko said that he sent out an order last November, which was when he was appointed supervising judge, stating that he would be recusing from cases involving Post & Schell. He said the case in which he received criticism from the Superior Court preceded that order and was an oversight.
Tereshko also stated that this is the only case where he failed to disclose.
Herron said that he did not want to comment about the Superior Court case specifically, but "the issue in general is an extraordinarily difficult one. The Superior Court opinion was appropriate and engaging in intellectually wrestling with the problem for all judges. The problem, as we all recognize, is when is disclosure appropriate? What type of disclosure is appropriate? As judges we live in a world of both professional and personal relationships. How do you draw the line of when you do appropriately disclose?"
One of the difficult aspects involving Tereshko was that Tereshko decided the motion without having a hearing and without disclosing his spousal relationship, Herron said.
Herron did say that Tereshko has made an "extraordinary contribution as a supervising judge. He worked diligently and he worked long, long hours. He has mentored many judges over the years. He has been a part of the civil program for an extraordinarily long time."
Judge Arnold L. New was appointed as the new supervising judge.
New "was a natural person to turn to," Herron said, because he was an "extraordinary judge in the commerce program. He was extremely well-regarded by the bar. He showed a great willingness to take on a learning process in the complex litigation mass tort program."
While New will be continuing in the interim as the supervising judge of the Complex Litigation Center, which involves appeals from arbitrations and mass tort cases, another judge will be introduced to supervise the complex litigation program and will work alongside New for a period of time just as New worked alongside his predecessor, Judge Sandra Mazer Moss, in supervising the Complex Litigation Center.
Tereshko said that he did not know where he will be assigned, and Herron said the decision would be New's.
A message left at New's chambers was not returned immediately.
Tereshko did not disclose that his wife, Heather Tereshko, was working in Post & Schell's professional liability department at the time that Post & Schell was representing the defendant in Barnes v. Westfield Group, according to the concurring opinion.
One of the Superior Court judges on the panel hearing the appeal said in a concurring opinion that the trial judge prejudiced the plaintiff by the lack of disclosure.
Superior Court Judge Anne E. Lazarus, a former colleague of Tereshko's on the Philadelphia bench, said in her published concurring opinion that "two significant ethical issues are raised: (1) doubt regarding the trial court's transparency; and (2) the lack of recourse for the aggrieved party to test the conclusion of no partiality or bias by discovery, should he so desire. Where a court has specific knowledge of a private matter or situation in which his or her impartiality may reasonably be questioned, it is his duty to disclose that information to the parties."
And in a footnote in the unpublished majority opinion authored by Judge Jacqueline O. Shogan, Shogan, Lazarus and Senior Judge William H. Platt said, "We note our disapproval of the trial judge's failure to disclose his relationship to appellee's counsel and remind him of his obligation pursuant to Pennsylvania Code of Judicial Conduct Canon 3(c)."
That part of the canon states that a judge should disqualify himself or herself when his or her "impartiality might reasonably be questioned," including that he or she knows that his or her spouse or minor child living at home "has a substantial financial interest in the subject matter in controversy or is a party to the proceeding, or any other interest that could be substantially affected by the outcome of the proceeding" or if the judge, his spouse, or a person "within the third degree of relationship to either of them" is "known by the judge to have an interest that could be substantially affected by the outcome of the proceeding."
Heather Tereshko is now a shareholder at Christie, Pabarue, Mortensen and Young.
AND NOT JUST PHILADELPHIA
Pennsylvania rocked by 'jailing kids for cash' scandal
(CNN) — At a friend's sleepover more than a year ago, 14-year-old Phillip Swartley pocketed change from unlocked vehicles in the neighborhood to buy chips and soft drinks. The cops caught him.
Former Luzerne county President Judge Mark Ciavarella pleaded guilty, faces prison and was disbarred.
There was no need for an attorney, said Phillip's mother, Amy Swartley, who thought at most, the judge would slap her son with a fine or community service.
But she was shocked to find her eighth-grader handcuffed and shackled in the courtroom and sentenced to a youth detention center. Then, he was shipped to a boarding school for troubled teens for nine months.
"Yes, my son made a mistake, but I didn't think he was going to be taken away from me," said Swartley, a 41-year-old single mother raising two boys in Wilkes-Barre, Pennsylvania.
CNN does not usually identify minors accused of crimes. But Swartley and others agreed to be named to bring public attention to the issue.
As scandals from Wall Street to Washington roil the public trust, the justice system in Luzerne County, in the heart of Pennsylvania's struggling coal country, has also fallen prey to corruption. The county has been rocked by a kickback scandal involving two elected judges who essentially jailed kids for cash. Many of the children had appeared before judges without a lawyer.
The nonprofit Juvenile Law Center in Philadelphia said Phillip is one of at least 5,000 children over the past five years who appeared before former Luzerne County President Judge Mark Ciavarella.
Ciavarella pleaded guilty earlier this month to federal criminal charges of fraud and other tax charges, according to the U.S. attorney's office. Former Luzerne County Senior Judge Michael Conahan also pleaded guilty to the same charges. The two secretly received more than $2.6 million, prosecutors said.
The judges have been disbarred and have resigned from their elected positions. They agreed to serve 87 months in prison under their plea deals. Ciavarella and Conahan did not return calls, and their attorneys told CNN that they have no comment.
Ciavarella, 58, along with Conahan, 56, corruptly and fraudulently "created the potential for an increased number of juvenile offenders to be sent to juvenile detention facilities," federal court documents alleged. Children would be placed in private detention centers, under contract with the court, to increase the head count. In exchange, the two judges would receive kickbacks.
The Juvenile Law Center said it plans to file a class-action lawsuit this week representing what they say are victims of corruption. Juvenile Law Center attorneys cite a few examples of harsh penalties Judge Ciavarella meted out for relatively petty offenses:
•Ciavarvella sent 15-year-old Hillary Transue to a wilderness camp for mocking an assistant principal on a MySpace page.
•He whisked 13-year-old Shane Bly, who was accused of trespassing in a vacant building, from his parents and confined him in a boot camp for two weekends.
•He sentenced Kurt Kruger, 17, to detention and five months of boot camp for helping a friend steal DVDs from Wal-Mart.
Several other lawsuits on behalf of the juveniles who have appeared in Ciavarella's courtroom have emerged.
The private juvenile detention centers, owned by Mid Atlantic Youth Services Corp., are still operating and are not a target of the federal investigation, according court documents. The company cooperated in the investigation, the documents said.
A spokesman from the company denied that its current owner, Gregory Zappala, knew about the kickbacks.
Ciavarella assured the community that he could provide justice. Elected to the bench in 1996, he once ran for judge on the promise that he would punish "people who break the law," according to local reports.
The corruption began in 2002, when Conahan shut down the state juvenile detention center and used money from the Luzerne County budget to fund a multimillion-dollar lease for the private facilities. Despite some raised eyebrows from the community, county commissioners approved the deal.
The federal government began investigating in 2006.
"It's been a dark cloud hanging over the county for a very, very long time," said Luzerne County Commissioner Maryanne C. Petrilla, whose office approved the judges' budgets during the corruption. "I'm looking forward to the ship turning around now and us moving in the right direction."
The kickback scandal highlights a major problem in the juvenile justice system in Luzerne County and across the country, attorneys say. They say hundreds of children who appeared before Ciavarella didn't have lawyers.
"Kids think very much in the present, and they have limited abilities to understand long-term consequences," said Robin Dahlberg, an attorney at the American Civil Liberties Union in New York who specializes in juvenile issues.
Dahlberg's recent study in Ohio revealed that some of the counties had as many as 90 percent of children going through the court system without a lawyer.
"This Pennsylvania case is a sad reminder of why kids need an attorney," she said.
A 1967 Supreme Court ruling says children have a right to counsel. However, many states allow children and their parents to appear without an attorney by completing a waiver.
Pennsylvania is among about half of the states in the country that allow waivers to be signed for juveniles to appear before a judge without an attorney, legal experts say.
In Luzerne County, teens who waived counsel were at greater risk of being sent to placement center than those with representation.
About 50 percent of the children who waived counsel before Ciavarella were sent to some kind of placement, the Philadelphia-based Juvenile Law Center reports. In comparison, the Juvenile Court Judges' Commission in Pennsylvania found that 8.4 percent of juveniles across the state wind up in placement.
"When you have this many kids waiving counsel, then that's way out of line," said Marsha Levick, an attorney at the Juvenile Law Center. "There was no record [Ciavarella] was assuring the child and parent about the consequences of not having representation."
Minors charged with nonviolent crimes were often given harsher sentences than what probation officers recommended, court documents say. Other investigators say the trials lasted a few minutes at most.
All four of the teens cited in this story say they appeared before Ciavarella without lawyers.
"I was sort of shocked and taken aback," Hillary Transue, the MySpace offender who is now 17, said of her experience in Ciavarella's courtroom in April 2007. "I didn't really understand what was going on."
The Juvenile Law Center says it first red-flagged Ciavarella in 1999 after discovering that a 13-year-old boy was detained without being read his rights and had appeared in court without a lawyer. When the case became public, Ciavarella promised the public that every minor in his courtroom would have a lawyer.
Judges must verbally explain the consequences of appearing in court without counsel to minors and parents, lawyers say. Juvenile Law Center officials say Ciavarella neglected to do so in many cases.
Yet in the past five years, attorneys, law enforcement officials and other judges did not report Ciavarella's behavior to the Judicial Conduct Board of Pennsylvania, says Joseph A. Massa Jr., chief counsel at the board.
Privatizing detention facilities is a growing in popularity among governments because the companies say they offer lower rates than the state.
Pennsylvania has the second highest number of private facilities after Florida, accounting for about 11 percent of the private facilities in the United States, according to the National Center for Juvenile Justice in Pittsburgh, Pennsylvania.
Critics say private prisons lack transparency because they don't go through the same inspections and audits as a state facility, and this may have allowed payoffs to go so long without being noticed.
"Once somebody is going to make more money by holding more kids, there is a pretty good predictable profit motive," said criminal justice consultant Judith Greene, who heads a nonprofit group called Justice Strategies. "It's predictable that companies are going to tolerate certain behaviors they shouldn't."
An audit draft obtained by the Philadelphia Inquirer showed that Luzerne County was spending more than $1.2 million in expenses that weren't allowed under state regulations. The Pennsylvania Department of Public Welfare, the agency overseeing the audits, says the audit drafts are not final.
The audits also allege that two people paid the judges. Attorneys for former Mid-Atlantic owner Robert Powell say that their client is one of those people but that he was pressured by the judges to make payments. The attorneys say Powell never offered to pay the judges, never sought to influence any juvenile case and is now cooperating with the investigation. Zappala and Powell were partners until Zappala bought out Powell in 2008.
Senior Judge Arthur E. Grim of Berks County is reviewing the cases for minors who appeared before Ciavarella. Court officials say some children may have their records expunged or be granted new hearings.
The Philadelphia Bar Association has expressed outrage, assuring the public that the rest of the judges on the state's bench are "composed of highly qualified, honorable and honest people, who take their responsibilities to the public very seriously."
But some of the children — many who, like Phillip Swartley, are now young adults — have become jaded and believe that their cases were tainted in Ciavarella's courtroom.
After being sent to boarding school, Phillip, now 15, became withdrawn and depressed, his mother says.
"What do these kids see of the legal system and of authority figures?" Amy Swartley asked. "These kids see people who abuse their power. Now, we have a whole county and generation of children who have lost trust in the system."